Floor Coverings International Disrupts Flooring Industry with Innovative Technology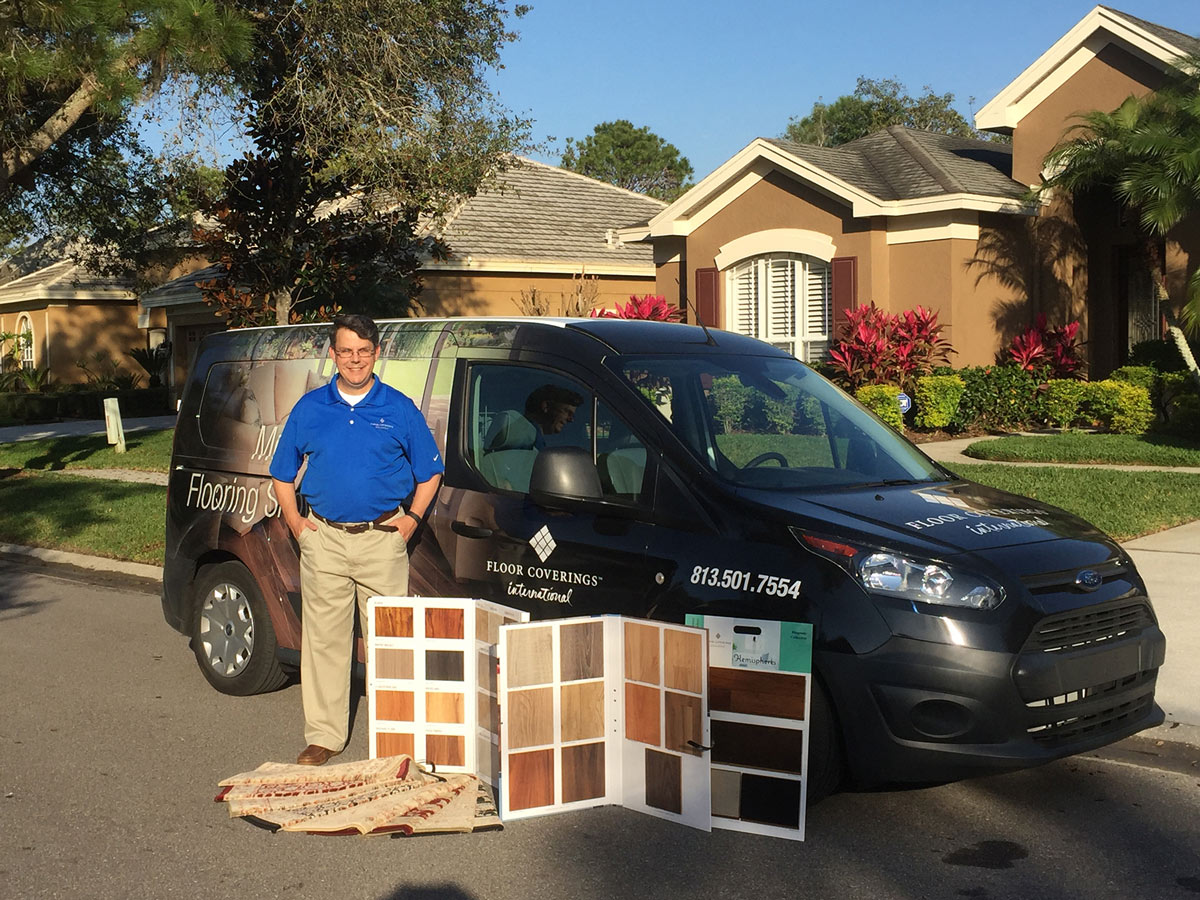 It seems every part of our daily life is being uprooted and transformed by burgeoning and fast-changing technology, but for years, the custom flooring industry seemed mired in the old ways of doing things. But Floor Coverings International has changed all that.
You know how it goes: in the past, if you wanted to redo your floors, you had to make the drive to a big box store, find the aisle with flooring products, take a sample home, and then try to use a small cut out sample to decide whether it's the right fit for your home – a monumental decision for homeowners. And that's not to mention the effort it takes to track down a representative at those huge stores for help or suggestions.
Why would we put customers through this stress and effort to offer a service so important to homeowners? At Floor Coverings International, we don't.
Revolutionizing the custom floor industry, Floor Coverings International offers a Mobile Floor Showroom and brings hundreds of top-selling hardwood floors, carpets, tile and luxury vinyl floor options right to our customers' doorstep. And, each visit comes with a professional design expert to help customers find the right flooring for their home, answer any questions and give an estimate of cost right on the spot. Can you get that kind of service at the big box store?
Floor Coverings International's unique business model has not gone unnoticed. For the past two years, the franchise has been recognized as an innovation leader by Franchise Update Media, the go-to source for aspiring entrepreneurs to research the best and smartest companies to invest in.
"Two years in a row we have been honored as the top prize winner in this prestigious innovation category, and I am very proud of our world class team for their continued outstanding performance," says Tom Wood, President and CEO.
Floor Coverings International has also been recognized for its "Multi-System Platform Solution" for the company's new website launched in winter 2020. Now, Floor Coverings International has the ability to strategically drive a more consistent brand story across its local and national websites, as well as optimize local websites to become local in-home appointment booking engines. Already the successes are showing: this past year has seen significant increases in traffic and scheduled appointments through the website.
"Website opportunities continue to expand and we are experiencing a 279% increase in online appointments over the last year," said Stacey Vogler, CMO. "We can attribute this to the website rebuild, consistent SEO local efforts and increased PPC utilization to reach page 1."
As is the case with any industry or business, if you don't adapt with the times, you eventually are left by the wayside. Even major companies that have failed to innovate and not keep up with market changes have eventually landed in bankruptcy.
Founded in 1988 and now with more than 180 locations, Floor Coverings International's experienced and veteran team has recognized this gap in the custom flooring industry, and responded by offering a unique, niche service that's disrupted the $48 billion residential flooring industry.
Ready to Disrupt the Flooring Industry?
If you are interested in joining a revolutionary brand that's disrupting the custom flooring industry, connect with us by filling out a form on this site to learn about the Floor Coverings International franchise opportunity. We can't wait to learn more about you!