Floor Coverings International is a business built on relationships – and not just the obvious one-on-one interactions with customers. Our commitment to giving back extends beyond the four walls of our customers' home and into the communities in which you and your customers live, work, and play.
Over the years we've donated time, money and talent to national charities and organizations such as St. Jude Children's Research Hospital. Additionally, our franchisees give back to their local communities, whether it's helping to build a house as part of a Habitat for Humanity build or preparing and serving meals at local homeless shelters.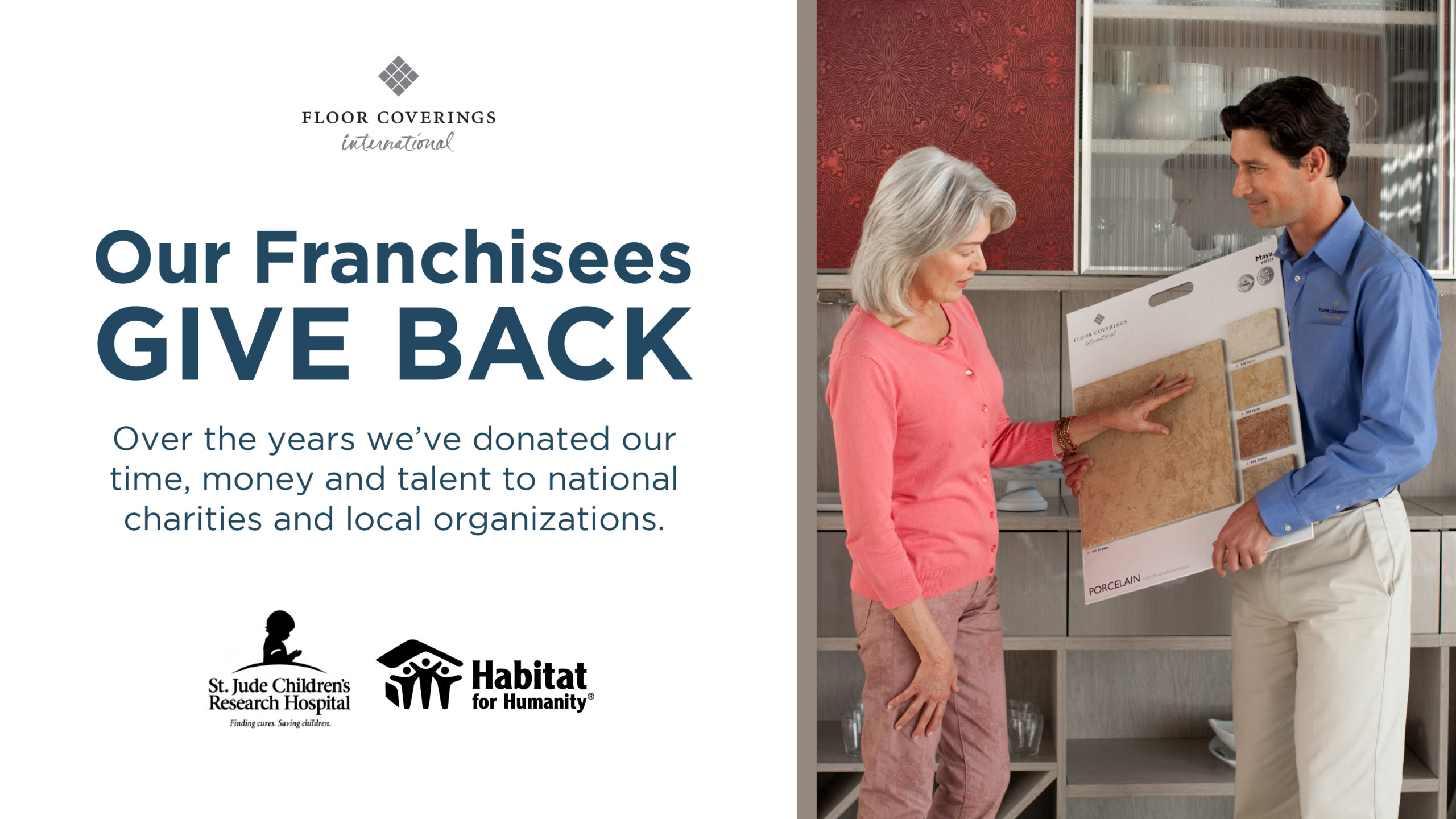 We recognize giving back takes many forms and all are equally as important, whether it's through donating money, empowering others, volunteering time or skills. It's a culture of giving back that we embody and encourage throughout our franchise network and our employees.
In the past year, through a partnership with one of our suppliers, we have donated more than $60,000 to St. Jude Children's Research Hospital. As a FirstService company, we are proud to belong to a network of companies that supports and encourages volunteer work. In fact, during our annual Volunteer Week we give associates 4 hours of PTO so that they may volunteer in their community and we promote volunteer opportunities year round through our Social Purpose Calendar.
"We have pride in our brand and respect for the communities we serve. It is with great pleasure that we can continue our mission to give back, help those in need, and build a community where everyone is actively involved in achieving what is needed for the greater good. At Floor Coverings International, community doesn't just mean the neighborhood you live in. It includes the areas in which you work, play, and encourage your family, friends, and neighbors to thrive," says Tom Wood, CEO, Floor Coverings International. "Our commitment to community involvement captures the essence of who we are. We believe that by taking social responsibility, we can encourage others to want to pay it forward. And in turn, we can create communities of involvement that work together to achieve the greater good for all."
Ready to Join the Floor Coverings International Floor Franchise Family?
If you're ready to join a revolutionary brand that's disrupting the $48 billion custom flooring industry*, fill out our form on this site to learn about the Floor Coverings International franchise opportunity. We can't wait to learn more about you!