Floor Coverings International is led by a visionary executive team that is passionate about helping franchise owners succeed. A high percent of our team has owned their own business.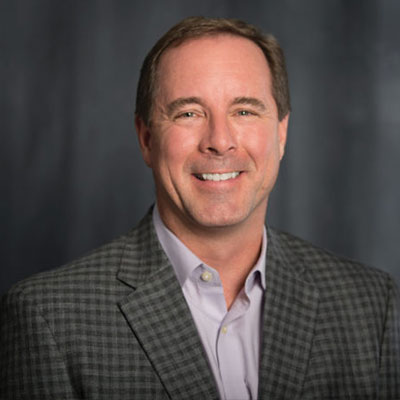 Tom Wood, President and CEO
Tom joined Floor Coverings International in 2005 after previously serving three years as a Vice President for our parent company with responsibility overseeing the strategy and operational direction of several of the brands in our franchising portfolio. Tom initially joined the parent company in 1985 and has worked in several of the sister companies including the following; College Pro Painters from 1985 –1990 as both a franchisee and as an executive, CertaPro Painters as Vice President and part of the founding team from 1992 –1998, President of The Franchise Development Center where he over-saw the franchise expansion and development for CertaPro Painters, California Closets and Paul Davis Restoration from 1998 –2004.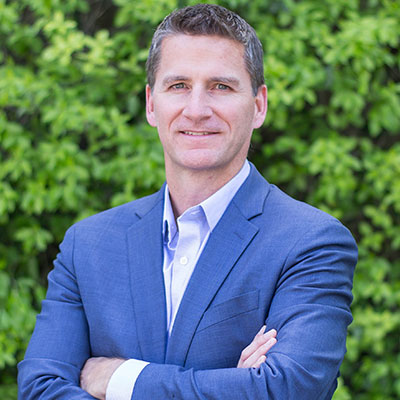 Chad Schloerke, Chief Operating Officer
Chad joined Floor Coverings International in 2006 after spending 11 years with College Pro Painters serving in multiple roles from Franchise Owner to Vice President. Over the years, Chad and the Operations Team have led Floor Coverings International growth of 200% by taking what was a "Man in a Van" concept and building a system that allows for dramatic scaling of a professionally staffed business. Chad is married to Miquel, his wife of nearly 20 years, and is the proud father of Evan, a budding entrepreneur and golfer. When not working, Chad enjoys golfing with his family, home improvement projects and distance running.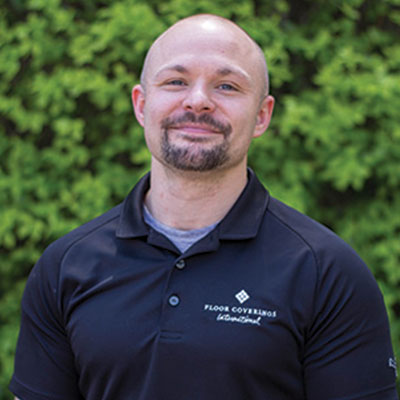 Ryan Aschauer, Chief Information Officer
Ryan received his degree in Entrepreneurial Studies from Babson College and has spent the majority of his career focused on growing the individual businesses and overall organization here at Floor Coverings International. Joining the team in 2004, over his 16 years with Floor Coverings International, Ryan first developed and launched the consumer marketing programs and then the technology platforms that have been integral in transforming this business from a small "man in a van" based organization to the enterprise-based business of today. Ryan is currently our Chief Information Officer, leading the usage and development of a cutting-edge mobile platform and best in class CRM tools as well as working with the rest of the Executive Team on the organizational strategy. Ryan lives in Dunwoody, GA, with his wife and two young daughters.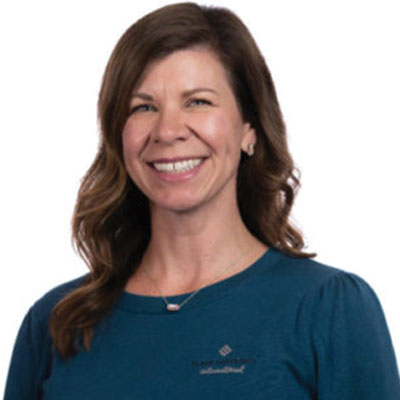 Stacey Vogler, Chief Marketing Officer
Stacey joined Floor Coverings International in 2020 as the global pandemic was beginning to shut down the United States. With her hands-on approach, she worked side-by-side with the Floor Coverings International team to develop and implement a support plan that helped our franchisees navigate the challenging times by adapting the marketing approach and messaging to each market. Stacey has over 20 years of growth marketing experience across many industries including retail, home improvement, automotive and financial services. Known for blazing new trails and solving complex problems stalling growth, Stacey has built and developed teams responsible for influencing over a $1 billion in annual revenue while at Assurant, The Home Depot and Home Depot Supply. Now she leads our marketing team in building upon the amazing customer brand experience to implement diverse marketing plans that lead to profitable growth and strengthening the brand. Stacey resides in Roswell, GA with her husband Rick and two active children Will and Wesley. On the weekends, you will likely see her sporting a hat on the sidelines or bleachers of all the youth sports.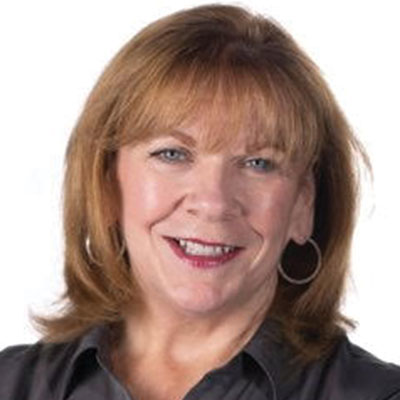 Marianne P. Murphy, CFE, Vice President of Strategic Brand Partnerships
A veteran of franchising with over 35 years of experience with home-service brands, Marianne joined Floor Coverings International in October 2011. Passionate about all things brand experience, Marianne's career in franchising has always been focused on the customer experience. Marianne is an active participant in the International Franchise Association, having received the designation of Certified Franchise Executive (CFE), has previously served on the IFA's Women's Franchise Committee, and was awarded the 2014 Chrystal Compass Award. Throughout her career in the Real Estate and Franchising industries, she has engaged with numerous audiences on topics ranging from Selling in a Down Market to The Power of Connecting. Marianne resides in Red Bank, NJ and enjoys running, sailing, and a good round of golf (fortunately "good" is subjective!).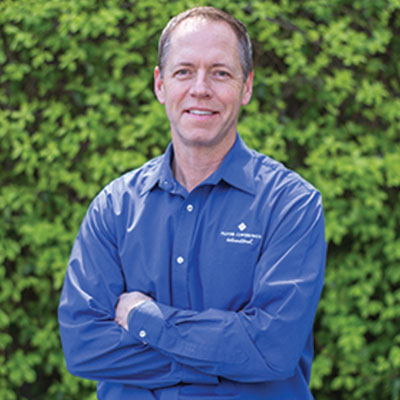 Alan Dickherber, Vice President of New Franchise Development
Alan Dickherber has his Mechanical Engineering / Management Degree and spent the first 15 years of his career in the Telecommunications industry where he focused on Engineering, Design and Customer Operations. After a very successful career in Telecommunications, Alan decided it was time for his next adventure in business ownership. That led him to purchase a franchise with our sister company CertaPro Painters. He spent the next 8 years building a high-performance business, which he then sold very profitably. This allowed him to pursue his real passion of small business coaching and leadership. Alan moved into a role with Floor Coverings International in 2015 supporting franchisees to start their businesses as a Director of New Franchise Development. Within a couple years, he was promoted to his current role of Vice President of the New Franchise Development Program (NFDP). Shortly after, he took on responsibility for the Learning and Development department. His experience of growing a highly profitable business will be invaluable to you as a new business owner. Alan has been a part of the Floor Coverings International Team for 6 years and a part of the First Service Brand Family for nearly 15 years.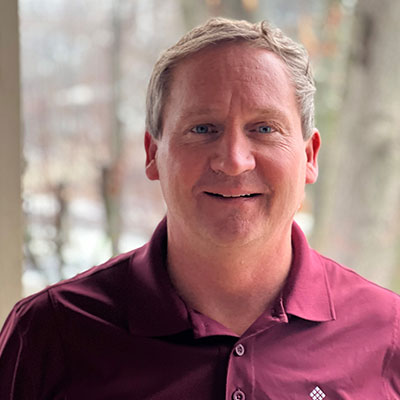 Mark Titcomb, Vice President of Franchise Development
Mark Titcomb has been with FS Brands for 27 years and for every one of those years, he has been an outspoken advocate for the budding entrepreneur. Many of the dreams that inspired many to join CertaPro Painters and now, Floor Coverings International, are also shared by Mark. Along with taking a year off to visit 17 countries with his wife and two daughters over the course of a year, Mark ensures to remain in the mindset of: "Plan to LIVE and Work around it." Life is also about who you are doing it with – and Mark could not be happier with the team assembled here at Floor Coverings International to support those who choose to pursue their dreams with this World Class Franchise.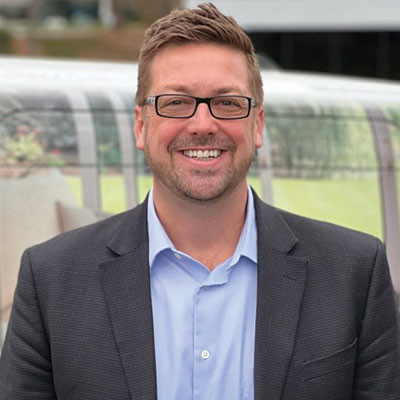 Timothy Holadia, Senior Director of Franchise Development
Timothy joined Floor Coverings International in 2022. Timothy has been in franchise development for more than 20 years and loves the opportunity to help people realize their dreams of being in business for themselves. Before joining FCI, Timothy was Vice President of Franchise Development for Buzz Franchise Brands where he managed the team of development executives and lead the development efforts across the three brands. In 2006, Timothy founded Franmogul. At Franmogul, he and his team worked with more than 80 brands to grow their franchisee network. Timothy started his franchise development career in 2001 at Geeks on Call whereas the Vice President of Franchise Development he grew that brand to over 400 locations in five years. Timothy and his wife, Dawn, live in Virginia. Their family includes five children, three dogs and a cat.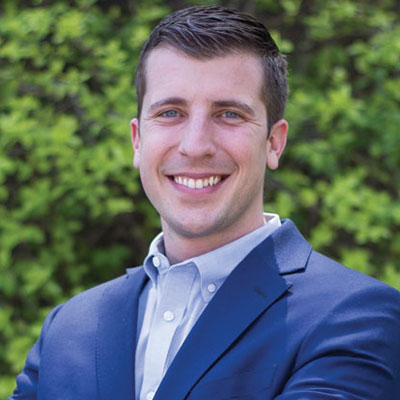 Albert Hermans, Vice President of Franchise Development
Albert Hermans has been a member of the Floor Coverings International team since 2015. Albert served on our Operations Team for years until 2020 when he began working with our Franchise Development Team. Having worked in Operations with our most experienced franchisees, he brings practical field experience as he coaches prospective franchisees towards business ownership. For his entire career Albert has owned small businesses and has worked with small business owners. He and his family have been able to personally experience the benefits of small business ownership and having the ability to control your own destiny. His first foray into entrepreneurship started at 18 when he launched an online e-commerce business. After exiting that business, Albert then started a second small business at age 22. That second small business began as an individual location and then grew into a 60+ location franchise company. Since then, Albert has been involved with many other small business ventures. Albert is passionate about entrepreneurship and how it can help individuals create a lifestyle of freedom and wealth. He is a graduate of Rutgers University. Albert lives with his wife, Teressa, two daughters, Emory & Lainey, & dog, Nacho, in Monmouth County, New Jersey.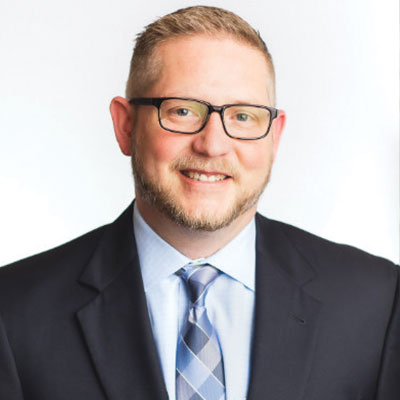 Chris Shaffer, Senior Director of Franchise Development
Chris Shaffer joined Floor Coverings International in March of 2021. Over the previous seven years, Chris worked as the Director of Franchise Development at Kiddie Academy. He worked closely with Franchise Candidates to guide them through the Discovery and Orientation process to become franchisees. He was instrumental in helping them to achieve their tremendous success in that timeframe. He also spent several years as the Head Sports Producer of the local Fox Affiliate in Baltimore as well as 16 years working as the Public Address Producer with the Baltimore Ravens. Chris is passionate about working with folks that are interested in achieving the "work/life balance" and walking them down the path to break away from the corporate grind while achieving monetary success. Chris holds a degree in Broadcasting from the Broadcasting Institute of Maryland and has over 22 years of Sales and Marketing experience. Chris lives with his wife Kathleen, sons, Connor and Nolan as well has their pets, dogs Pickle Seamus and Betty Boop and their cat Geronimo Taco.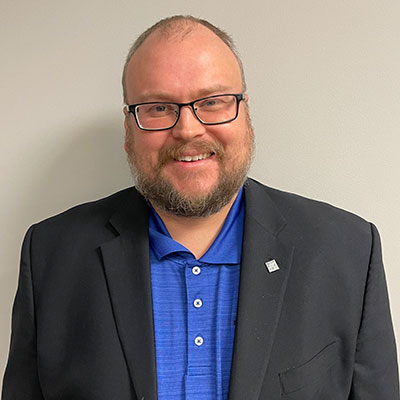 Ben Pace, Chief Financial Officer
Ben joined Floor Coverings International in 2020 after spending 2 years with Balentine Wealth Management, and 4 years with Goodman Decorating. Ben joined a month before the COVID-19 pandemic and spent his first few months helping position the company financially for the unprecedented summer. Over the last 2 years, Ben and the Executive Team have led Floor Coverings International to some of the best years of growth in company history. Ben is married to Krista, his wife of 4 years. When not working, Ben enjoys Legos, Star Wars, anything involving pirates, and cornhole.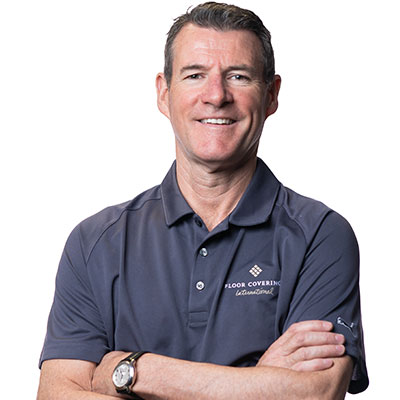 Sean O'Rourke, National Director of Merchandising
Sean joined Floor Coverings International in 2021 with over 30 years of experience in the Flooring Industry, with an extensive background in Merchandising and Sales, having worked for large brick and mortar retailers with multi-store locations. Sean has served as Director of Flooring Sales for a multi-state furniture and flooring company head-quartered in Michigan. Prior, Sean was the Vice President of Sales for a National Top 10 Flooring company head-quartered in Cherry Hill NJ for almost 20 years. Sean's flooring experience has been focused on the Residential Flooring category and worked firsthand with everyone in the entire supply-channel from the warehouse and installer to the Executives at almost all of the top tier suppliers and most importantly on the front end with sales professionals.
Sean works with our franchisees firsthand through their journey making sure they have the right products, at the right price and readily available so they can service their customers.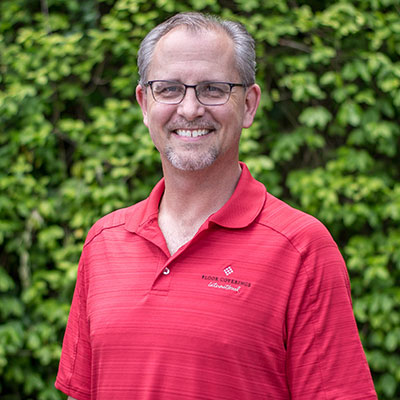 Mike Vogt, Vice President of Emerging Operations
Mike Vogt started his franchising career in university when he was recruited to join College Pro Painters as a summer franchise manager.  This experience forever changed Mike as he developed a love for small business and for helping others in business succeed.  Following College Pro, Mike would become a franchise developer for Certa Pro Painters (College Pro's sister company), recruiting new franchisees into the brand.  After four years of franchise sales, it was time to become a franchisee again and Mike decided to purchase a failing California Closets franchise in Nashville, TN.   Mike successfully grew his franchise taking revenues from $250,000 in year 1 to roughly $3.7M in year 12.  Mike exited the business in 2015 and after taking several years off to travel and teach internationally, he joined the ranks of Floor Coverings International as an Operations Director.  He has a true love of coaching and developing franchise owners to help them realize their potential and build value into their businesses.
Ready to Join the Floor Coverings International Franchise Family?
If you're ready to join a revolutionary brand that's disrupting the $48 billion custom flooring industry*, fill out our form on this site to learn about the Floor Coverings International franchise opportunity. We can't wait to learn more about you!