Groundbreaking custom flooring franchise makes the experience of buying new floors more convenient than traditional flooring purchases.
Before Floor Coverings International, if you wanted a new floor, customers had to manage a lot of moving pieces. To choose material, customers would have to leave their house, drive to a big box retailer, and select from a dizzying array of material. If they liked anything they saw, they could take some samples back home – only to have to make the trip again to return samples and place an order.
This tedious experience is counterintuitive. Shouldn't decisions about home design be made in the home? If Amazon can deliver literally anything to your doorstep, shouldn't you be able to get a new floor that way, too?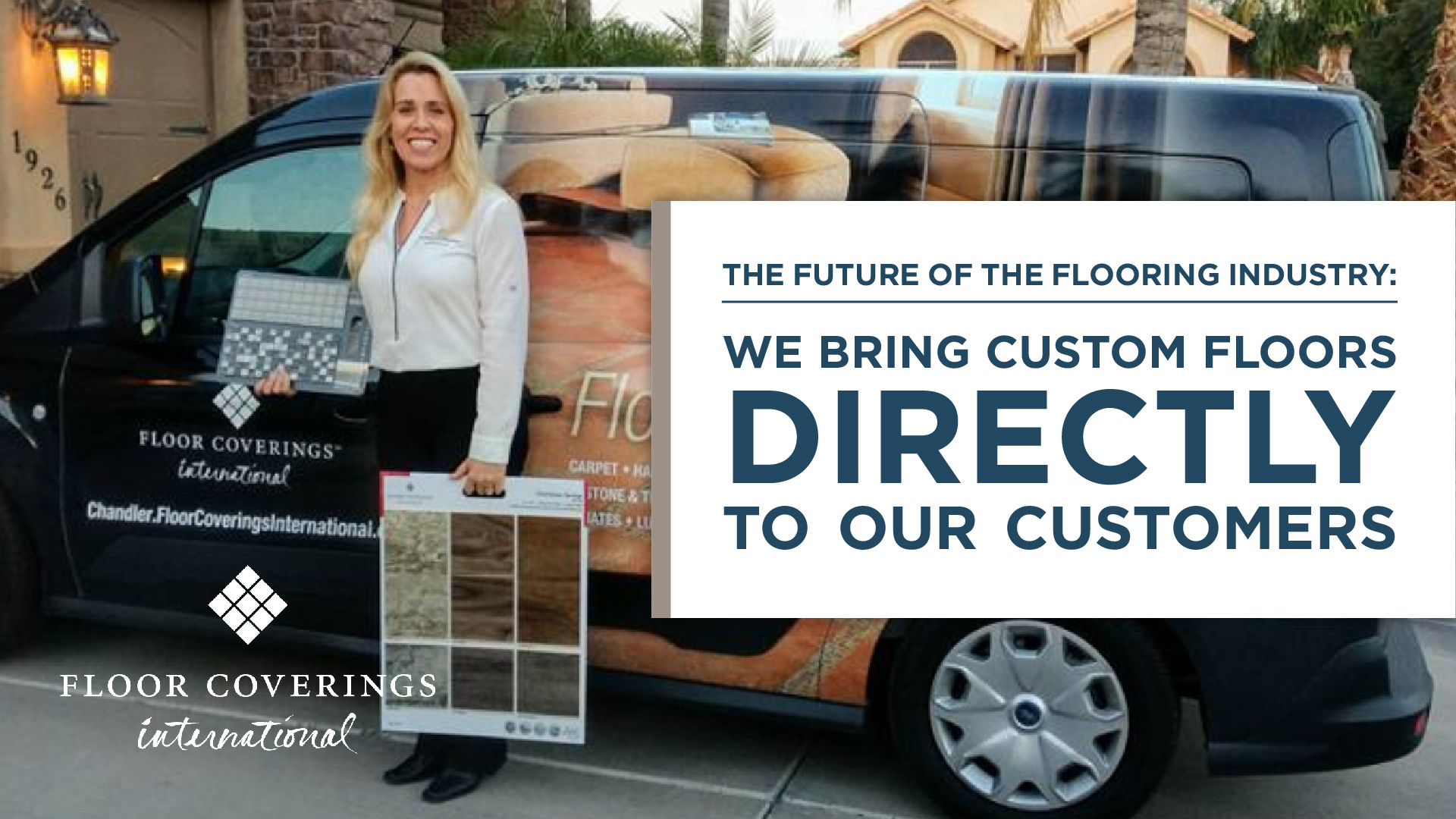 This is why Floor Coverings International exists. We bring a custom flooring experience directly to our customers with our mobile showroom business model. With thousands of beautiful flooring options from around the world, we provide homeowners with the ability to see and feel custom flooring options in their home. This allows our customers to make a decision about their flooring, while they're in their homes. Our franchise owners and their teams of designers, help homeowners make the right choice based on their individual budgets and design goals.
In other words, we make it easy, comfortable and convenient – and in the process, we've revolutionized the $48 billion custom flooring industry*.
"Our business model is more relevant than ever," says Tom Wood, CEO of Floor Coverings International. "The industry is highly fragmented – and it's dominated by retail stores. After the recent pandemic, who wants to go to a retail store and stand under those uncomfortable fluorescent lights? Not to mention, if you go to a place like Home Depot, you're going to make multiple trips. We just have to show up to their driveway. We make buying custom flooring a really convenient, fun and easy thing for a homeowner to do because we're bringing the retail experience to their doorstep. With us, there's a much higher likelihood of customer satisfaction, which is a tremendous advantage for our franchise owners."
Our Commitment to Customer Service has Earned Us the Highest Net Promoter Score in the Industry
Our ability to deliver a hyper-personalized approach to custom flooring solutions has resulted in our franchisees earning the highest Net Promoter Score in the industry. Our score of 82% vs the industry average of 38% is outstanding! Not only is our score higher than all of the competitors in our industry, but it's also higher than brands such as Apple, Microsoft, Netflix and more.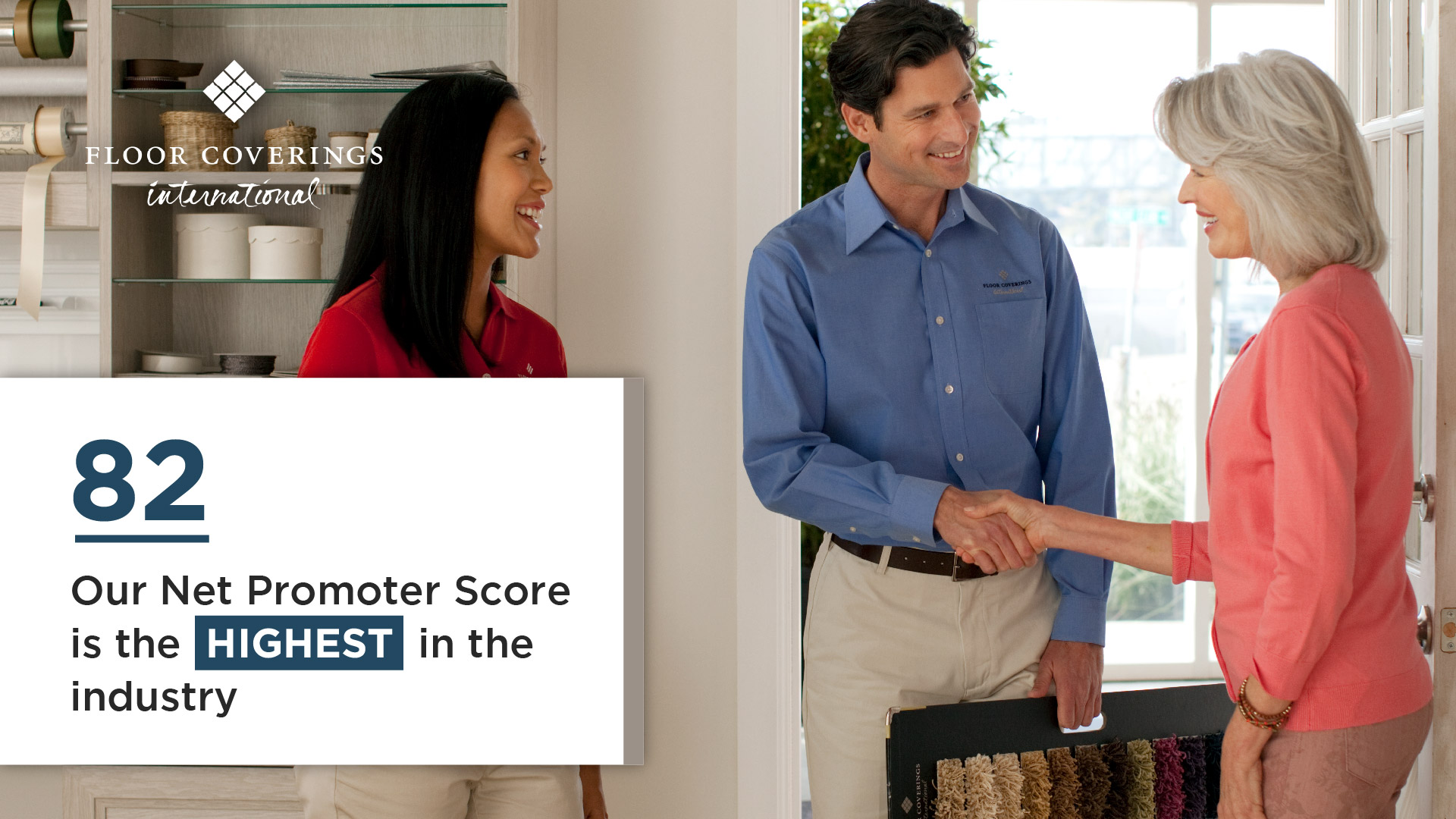 A strong Net Promoter Score is a reflection of high customer satisfaction rates, customer loyalty, and the connection between customer satisfaction and value. For our franchise owners and their design associates, the ability to meet with a client in the home is an opportunity to make a connection, build trust and establish a relationship that leads to sales and referral business.
"Relationships are at the core of our business model," Wood says. "You can have the best product in the industry, but if you don't find out what a customer needs, wants and can afford, you're not going to earn their trust. There's a reason why nearly 50% of our business comes from referrals: our franchise owners are trusted by their clients. They demonstrate their value not just in the fantastic products that we have to offer, but also in their ability to build a relationship and help their clients achieve their goals. That's where we go above and beyond the rest of the industry."
A Business Model Designed for Growth
Floor Coverings International is a simple business to own, run and scale – but most importantly – it's fun! In the $450 Billion home remodeling industry*, there's no other business model like Floor Coverings International.
Our franchisees are the go-to resources for custom flooring, and they get to play the role of the flooring expert they see on HGTV every time they visit a home. By bringing a 3,000 product mobile showroom directly to homeowners, our franchise owners are positioned as experts who can deliver custom solutions and exceed customer expectations.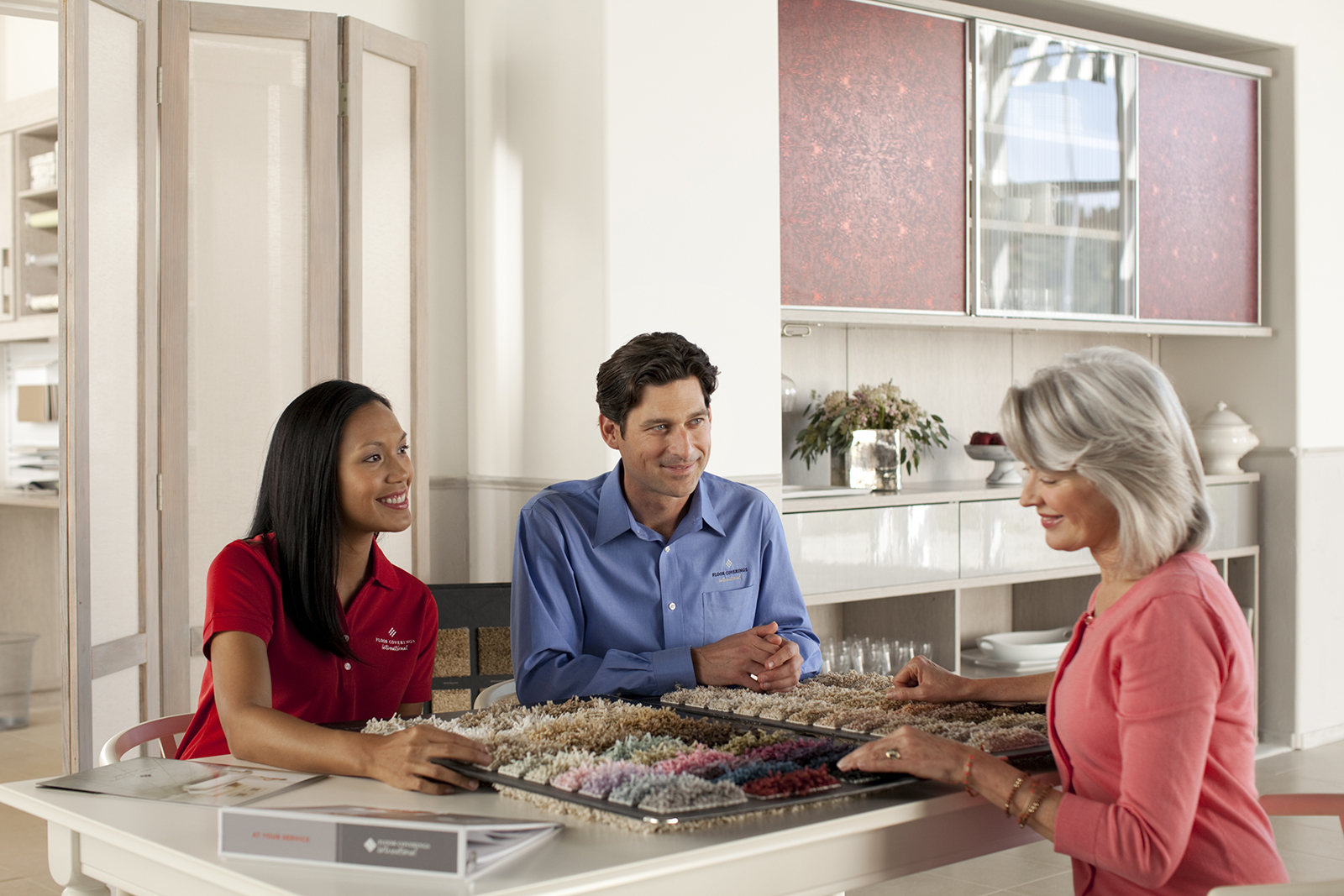 The franchise industry agrees. Entrepreneur magazine has ranked us in the "Franchise 500" list of franchise opportunities for 3 years in a row and Franchise Times also named us to their "Top 200+" list.
"We've been growing every year we've been in business," says Jon Cayton, owner of the Floor Coverings International franchise in Boise, Idaho. "The value that we bring to our customers is far beyond anything else that's offered in the industry. Most people can't afford to hire a personal designer to come to their home, but they can afford to hire us to help make a decision on the perfect flooring option. This is a business where how well you do is up to you – and if you have a love for helping people, have a drive to succeed and have a competitive edge, the sky's the limit as to how well you can do."
Outstanding Training & Support Means You Don't Need Experience to Thrive
When you franchise with Floor Coverings International, you're joining a brand that has decades of experience in helping entrepreneurs thrive in business. Our initial training and support program focuses intensively on the first two years of your business, where we will work side-by-side with you to help make you an impactful, dynamic owner of a growing business. This is how we'll support you:
Developing an annual business plan
Ongoing marketing support
Ongoing business development coaching
Ongoing sales process coaching
Ongoing field visits and on-the-job training
Access to industry-leading products and pricing
Software to keep you informed on key business analytics
Access to industry professionals committed to your success
"We take the investment our franchise owners make incredibly seriously," Wood says. "We know that our role as a franchisor means that we have to deliver a business model that is capable of strong growth and profit-potential, as well as ongoing training and support that will help our franchise owners prosper over the long-term. We've worked hard to develop a training platform that is truly effective, and by taking out the guesswork involved with owning a business, our franchise owners are flourishing."
Floor Coverings International Franchise is Growing Fast
If you're ready to leave the corporate world and realize your dream of starting a business that allows you to be creatively and professionally fulfilled, Floor Coverings International is ready to get you there.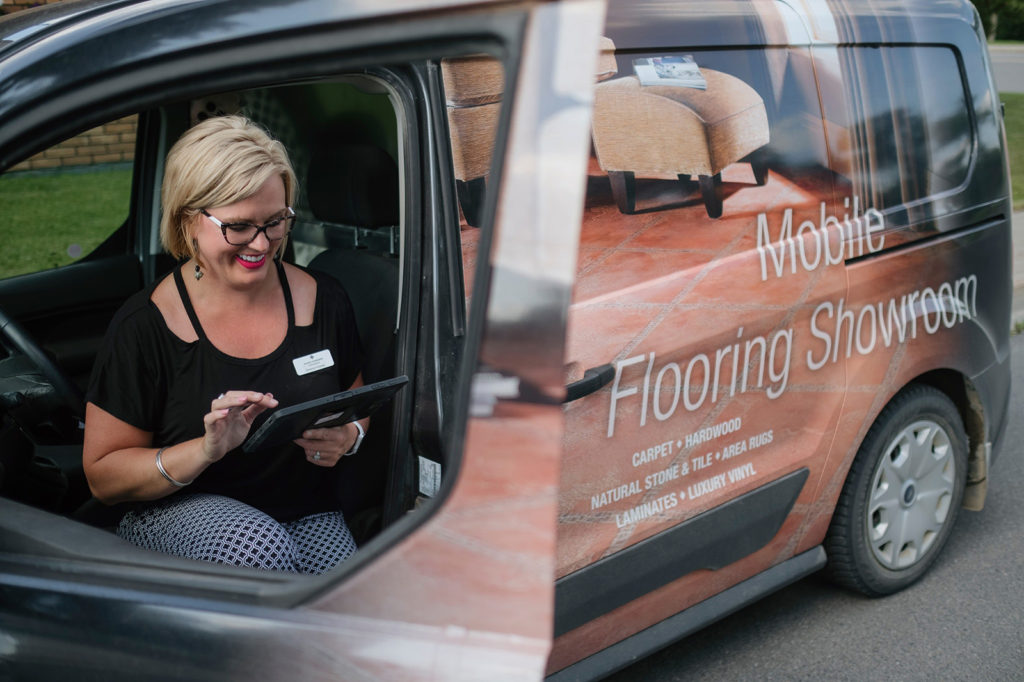 With over 200 locations open across North America, Floor Coverings International is ready to become the dominant player in the custom floor industry going forward. With a low cost of ownership, large, exclusive territories, and a recession-resistant business model with unlimited profit-potential, now is the perfect time to get in on the action.
"Our industry has a huge opportunity," Wood says. "We have a defined market niche that we grow every year and we can grow as fast as the franchisee wants to. The thing I love about this industry is that it's simple, you always have a renewable customer base, and with our brand, you have a business model that's more relevant than ever before. We expect to grow four or five times larger than we are in the coming years."
Ready to Join the Floor Coverings International Franchise Family?
If you're ready to join a revolutionary brand that's disrupting the $48 billion custom flooring industry*, fill out our form on this site to learn about the Floor Coverings International franchise opportunity. We can't wait to learn more about you!