Floor Coverings International Franchise Increase Marketability for Homeowners and Entrepreneurs
Fast-growing flooring business succeeds by upgrading our customer's home value
Research by USA Today found that the majority of home buyers were willing to pay more for a home with hardwood flooring. In that respect, owning a flooring business means you can increase each customer's market value by over 2.5 percent.
Floor Covering International's easy, comfortable, and convenient approach to the niche market makes owning a flooring business profitably for both its clients and franchise owners. Through years of experience, our practices have revolutionized the $116 billion industry. And best business practices are providing entrepreneurs with the ability to capture more market share.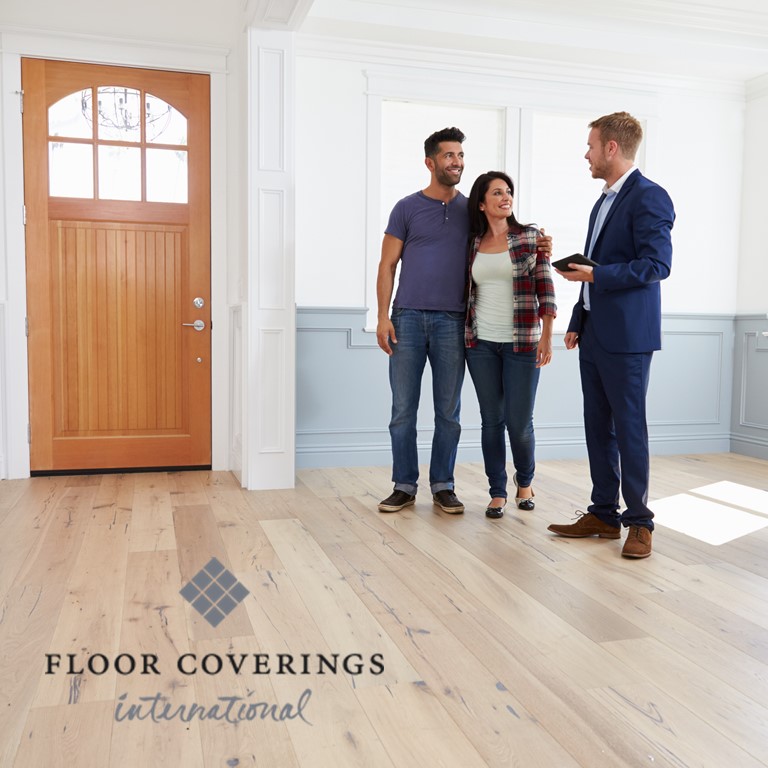 According to Professional Builder, the ROI for hardwood floors lands somewhere between 70 to 80 percent. As an added benefit, homeowners enjoy the low-cost upkeep that Floor Coverings International services provide. For those interested or knowledgeable of the real estate market, Floor Coverings International franchises present the chance to capitalize on a popular and profitable industry – with the extra personal advantages of freedom and independence tied to franchise ownership.
Our franchise owners and their team of design professionals, help homeowners customize their space and enhance any buyer's first impression. With a mobile showroom of over 3,000 products brought directly to homeowners, our franchise owners are positioned as experts who exceed customer expectations.
"Our business model is more relevant than ever," says Tom Wood, CEO of Floor Coverings International. "We experience much higher customer satisfaction, which is a tremendous advantage for our franchise owners. Furthermore, we deliver a business model that is capable of strong growth and profit-potential, as well as ongoing training and support that will help our franchise owners prosper over the long-term. We've worked hard to develop a training platform that is truly effective. By taking out the guesswork involved with owning a business, our franchise owners are flourishing."
Floor Coverings International personalized experience leads to higher customer satisfaction and brand loyalty
When customers get exactly what they want from your business, they will come back again and again. Nearly 50 percent of our business at Floor Coverings International comes from referrals because our franchise owners are trusted by their clients.
Our franchisees and their design associates have the advantage of meeting with a client in their home, capitalizing on authentic connections, building trust and loyalty, along with establishing strong relationships that lead to sales and referral business.
Our ability to deliver a hyper-personalized approach to custom flooring solutions has resulted in our franchisees earning the highest Net Promoter Score in the industry at 82 percent – compared to the industry average of 38 percent! Our score is higher than all of our competitors and a reflection of high customer satisfaction rates, customer loyalty, and the connection between customer satisfaction and value.
New flooring doesn't just add to the beauty of the house – it makes an improvement to our quality of life. We strive to pursue life's upgrades through the quality of our product and the growth of our business. With customers increasing demand for personalization, our franchises will continue to expand. Owning a flooring business has benefits today and for years to come!
"We've been growing every year we've been in business," says Jon Cayton, owner of the Floor Coverings International franchise in Boise, Idaho. "The value that we bring to our customers is far beyond anything else that's offered in the industry. This is a business where how well you do is up to you – and if you have a love for helping people, have the drive to succeed, and a competitive edge, the sky's the limit as to how well you can do."
Ready to own a flooring business?
With over 150 locations open across North America, Floor Coverings International is a dominant player in the custom floor industry. With a low cost of ownership, large, exclusive territories, and a proven business model, now is the time to invest in a Floor Coverings International franchise. If you're ready to join a revolutionary brand that's disrupting the $116 billion custom flooring industry, fill out our form on this site to learn about the Floor Coverings International franchise opportunity.