Floor Coverings International interior design franchise is a proven business model with strong profit-potential
When you're exploring business opportunities, you want to be certain that the brand you're going to franchise with will provide you with a business model that is capable of delivering a high-quality of life, a good return on your investment and the ability to grow over the long-term.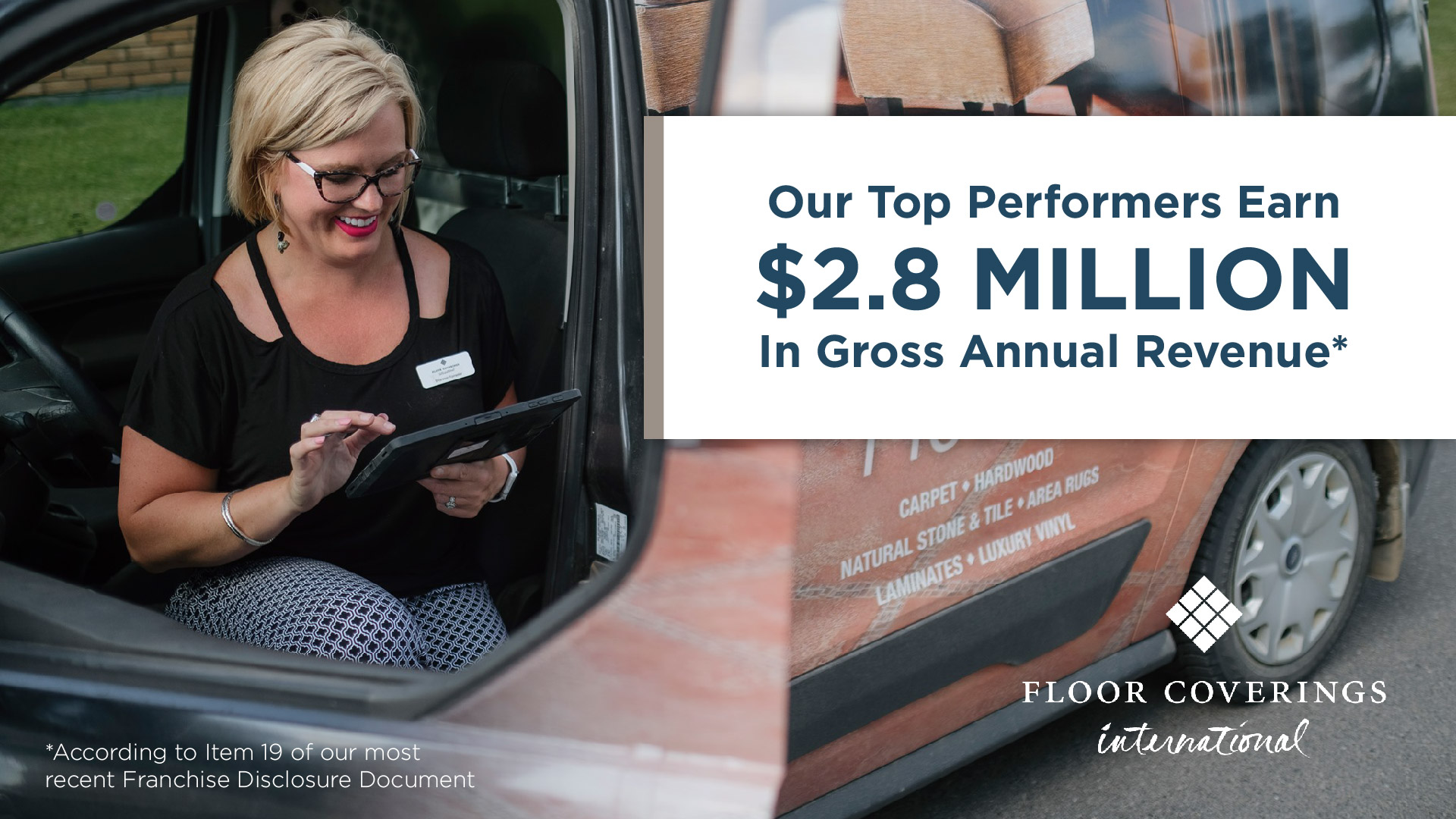 Floor Coverings International is proud that our business model is designed to help franchise owners thrive in business and quickly scale up to multi-unit ownership. By offering a highly differentiated service within the already booming flooring industry, Floor Coverings International is able to occupy a singular and rapidly segmented niche of hyper-personalized, custom flooring sales.
Our unique ability to bring a mobile showroom with over 3,000 samples of hardwood, tile, carpet, vinyl, laminate, marble, and more, directly to our customer's driveway, has allowed us to modernize the way homeowners have historically purchased their new flooring. More importantly, because our franchise owners and their teams act as design consultants, offer consumer financing options, and have beautiful products that more than rival anything to be found in a big box store, consumers reward our franchise owners with their loyalty, their checkbooks and their recommendations.
"My business continues to grow, year over year," says Rob Greenlaw, owner of a Floor Coverings International franchise in West Columbia, South Carolina. "With our mobile showroom, we make it so carefree and easy for our customers. They don't have to drive to the store – we drive to them. Because we're in their homes, it's easy to establish trust, and this makes a tremendous difference when homeowners are deciding who to hire. We make the process turnkey, and they know that we're going to deliver quality work."
Our Buying Power Results in Bigger Margins
Because Floor Coverings International has tremendous buying power, our franchise owners benefit from high margins:
"As a franchisor, we do things that an individual business owner or smaller brand simply cannot do," says Ryan Aschauer, CIO at Floor Coverings International. "Our buying power puts us in the top 10% of suppliers, which means that our franchise owners get great margins. That value is also delivered to the customer, as dollar for dollar, the customer gets the best product. Our products are tested by third-parties, and we take the time to educate the consumer on the quality of our products – because we're in the home, we can develop that relationship and the customer can make a purchase they feel really great about."
Want to See How Well Our Franchise Owners Do in Their Business?
When it comes to the financial performance of our franchise owners, our numbers speak for themselves. Below is the full breakdown of how well our franchise owners do in their businesses from item 19 of our most recent Franchise Disclosure Document.
| Group | Average Gross Revenue Produced | Average Gross Revenue Landed | Leads | Proposals | Average Job Size | Gross Margin |
| --- | --- | --- | --- | --- | --- | --- |
| Top 10% | $2,773,952 | $2,809,335 | 1155 | 800 | $5,860 | 50% |
| Top 25% | $1,883,524 | $1,900,119 | 1120 | 588 | $6,978 | 46% |
| Top 50% | $1,390,440 | $1,499,054 | 1067 | 502 | $6,961 | 46% |
| All Reporting Franchisees | $936,195 | $956,558 | 859 | 387 | $6,556 | 45% |
Ready to Join the Floor Coverings International Interior Design Franchise Family?
If you're ready to join a revolutionary brand that's disrupting the $116 billion custom flooring industry, fill out our form on this site to learn about the Floor Coverings International franchise opportunity. We can't wait to learn more about you!